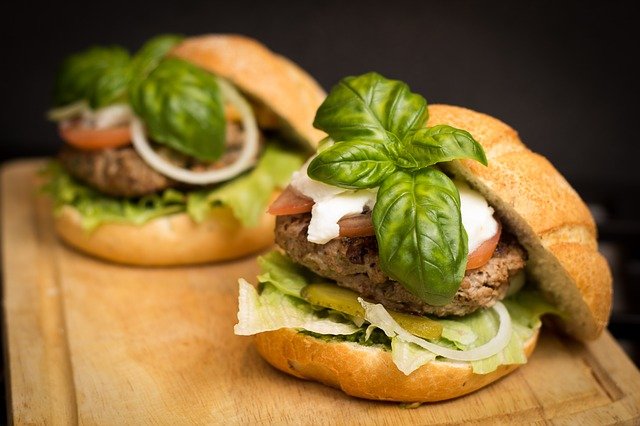 A little history of the trendy dish of the last few years
The hamburger today is certainly American.
The term is the result of a mix between German and English. Hamburger is Hamburg's demotic.
Towards the beginning of the 19th century, this fantastic dish was already present in the German city and was brought to North America from the port of Hamburg, which has already been the largest commercial port in Germany ever since.
It spread throughout the United States under the name of hamburger steak, Hamburg steak
THANKS TO THE NEW VP2 REVOLUTION OVEN YOU WILL GET PERFECT COOKING OF YOUR HAMBURGER AND SANDWICH IN A FEW MINUTES.
In fact, thanks to the revolutionary cooking system of the Revolution STIMA oven you will get a tasty Hamburger in just 3-4 minutes and a crispy sandwich in just one minute.As you can see from the video below, the high temperature of the revolution oven guarantees on the one hand a cooking fragrant sandwich and on the other a tasty burger cooking.
Enrich everything to your imagination and do not miss the trend of the moment.


Street food is living its golden age. Stima S.r.l. created a targeted line of pizza ovens ,professional induction cooker and automatic pasta cooker for this specific use.
– Problem No. 1 "the consumption":
Often the equipment must operate with generators that can supply a limited power and are subject to power surges,
Stima S.r.l., thanks to its research and development office, made pizza ovens , professional induction cooker and automatic pasta cooker machines that are equipped with  a special computer  to overcome these problems.
– Problem No. 2 "the dimensions":
Pizza ovens, professional induction cooker and automatic pasta cooker are very small.
Also Stima pizza ovens, professional induction cooker and automatic pasta machines have their own extractor hood, this also allows you to participate in events that take place in closed areas.
STIMA machines are divided specifically into:
• Electric oven pizza VP2 Evolution and electric pizza oven VP2 17.7 Evolution can bake up to 2 pizzas in two minutes in just 63 and 67 cm of space;
• Electric oven pizza VP2 Evolution XL can bake up to 4 pizzas in two minutes in just 88 cm of space;
• Automatic Pasta Cooker Machine P2001 / 2 able to prepare up to 120 starters in one hour in just 60 cm of space;
• Automatic Pasta Cooker Machine P2001 / 4 can prepare up to 240 starters in one hour in just 76 cm of space;
• Speedychef machine professional induction  cooker   multi-cooker just 44 cm of space.
Do not hesitate to contact us for any further information. You can see our pizza ovens and pasta machines at our office or at the most important European trade fairs where our company has participated for many years.
Add the organic to your menu
With the pastacooking and the electronics ovens plan by Stima S.r.l. you can add an organic menu easily. In order to avoid every kind of contamination,it's necessary to have specific gears. The pastacooking and the ovens Stima are the perfect solution thanks to reduced the  spaces and the low consumption.
The market of organic food is destined to grow with an extended offer of natural products. In fact in 2016  the question of bio has exceeded the 4,8 billion of euro. In Europe until 2025 the market of organic products, like in the Usa, is planned growing with an annual variable rate between 6,7% and 7,6%. If we eat at the bar or at the restaurant? In this case a vegetable dish would be fine, by choosing an only protein source between the tuna, eggs or a chest of chicken, by keeping a correct proportion between proteins and carbohydrates. If at one time when we ate out we didn't fell like following an healthy food style, so the restaurant owners are adapting to the requests of consumers by introducing on the menu the organic dishes. The sure thing is that eating bio we don't take more vitamins or minerals salts but we ingest less substances with a nutritional  null  and healthier value. The choice that the restaurants should do because the clients start to appreciate the organic healthy products gradually that the restaurants are able to serve them in a creative and tasty way.
For some years in Italy the organic restaurants and fast-food are becoming more and more common, the perfect solution to eating out with more security about the raw materials.
Eating bio is very easy throughout Italy also because the organic sensitivity is affecting every bracket of population by encouraging producers.