Excellent first courses in a minute!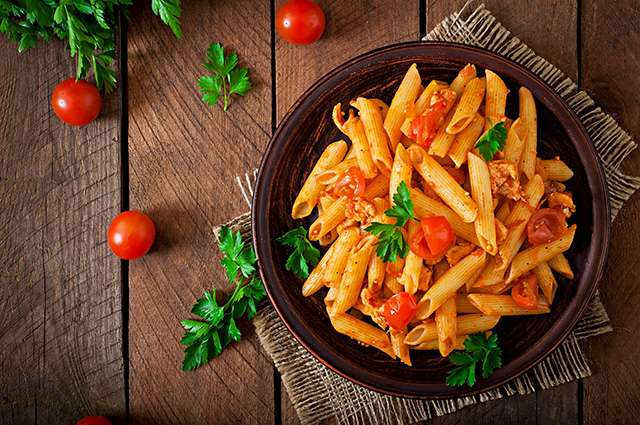 Stima S.r.l. company in addition to being engaged for years in the production of machines for the food with high technological content such as electric pizza ovens, pasta cooker, fryers and induction plates, is also a leader in the distribution of frozen products in particular pasta and pizza. 
Our company has created two innovative systems that allow even those that haven't a kitchen, and especially to those who do not have skilled labor, to serve excellent pizzas and great pasta dishes of the highest quality and in a very short time.
The pasta system is an innovative method conceived by Stima S.r.l. that thanks to the use of pasta cookers "VOGLIA DI PASTA" allows you to prepare pasta dishes quality in any room without skilled labor and without constraints.
Voglia di Pasta P 2001/ 2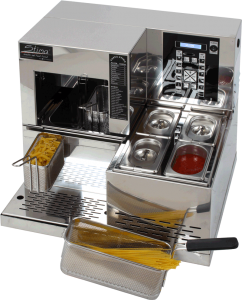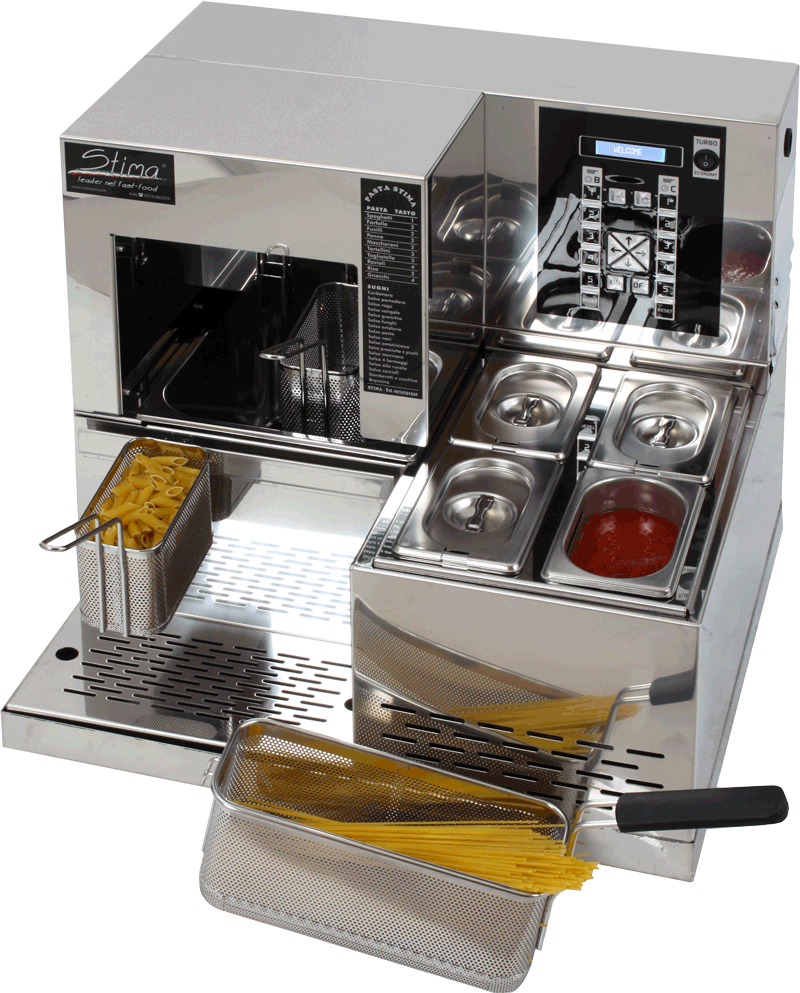 Voglia di Pasta P 2001/ 4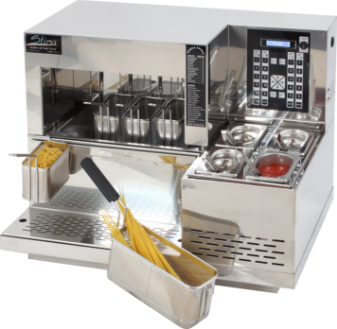 Our pasta cooker "VOGLIA DI PASTA" are indicated for cooking any type of pasta and, thanks to the automatic water bath of which are equipped and thanks to a suction system of the vapors patented, can serve up to four different sauces.
You can use ready-made or fresh sauces. With the water bath patented by Stima, the sauces do not dry out ever.
The quality and the slowness of a microwave oven does not fully satisfy you? Today there is Voglia of Pasta that in only 23,62 inches allows you to make excellent pasta dishes in just one minute! 
For further information contact: vogliadipasta@gmail.com
Advantages of the Stima system:
NOT NEED OF SPECIALIZED MANPOWER
NOT NEED TO PREPARE SAUCES SAUCES OR PASTA DOUGH …
NO SPECIFIC AUTHORIZATION REQUIRED
Forni Pizza VP Revolution
Pizzas ready in 1 minute! Equipped with extractor hood.
The Pizza System is an innovative method designed by Stima S.r.l. Through the use of the VP/EVOLUTION Oven and the use of a special pizza base, enables you to bake special pizzas in any type of premises without the need of skilled staff and without constraints.
The ovens are ideal for cooking any pizza dough: fresh, precooked and frozen. However the handcrafted pizza bases allow a very short time of preparation of the pizza that, once filled, is baked in just two minutes thanks to the VP/EVOLUTION Stima ovens.
Pizza Oven VP2 Revolution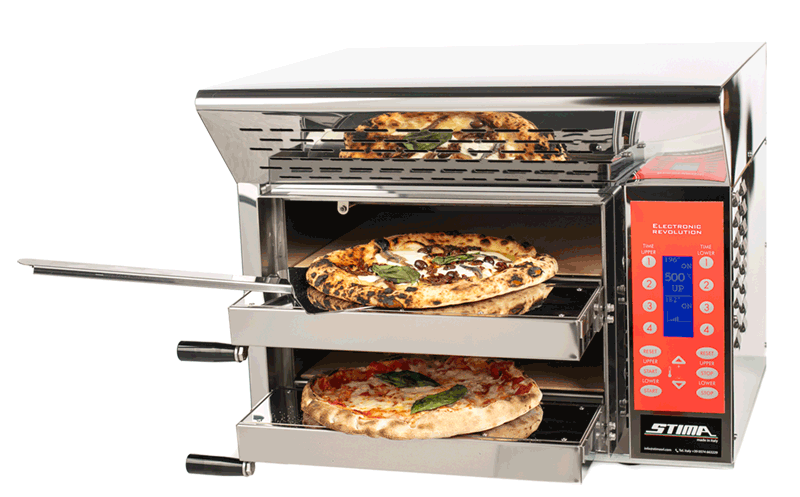 Pizza Oven VP2 Revolution 17.7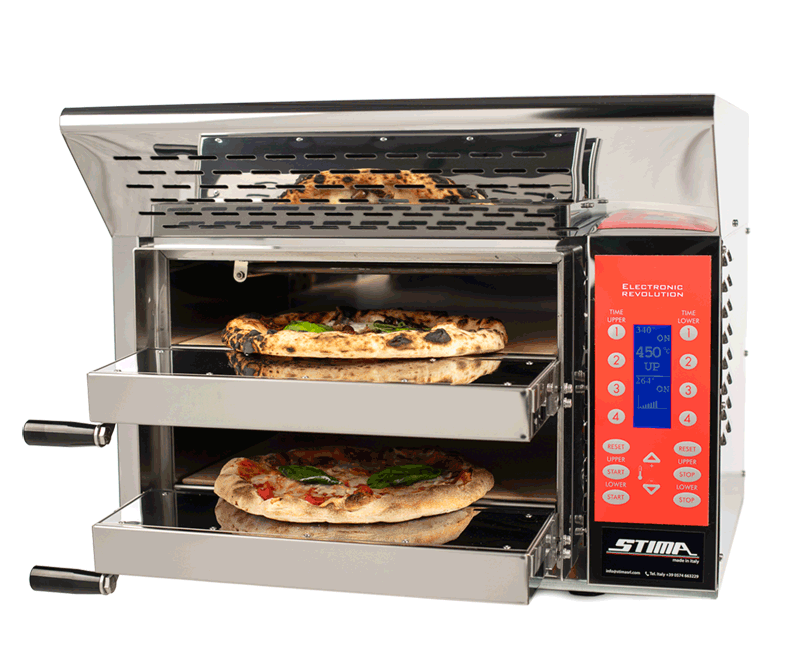 Pizza Oven VP2 Revolution XL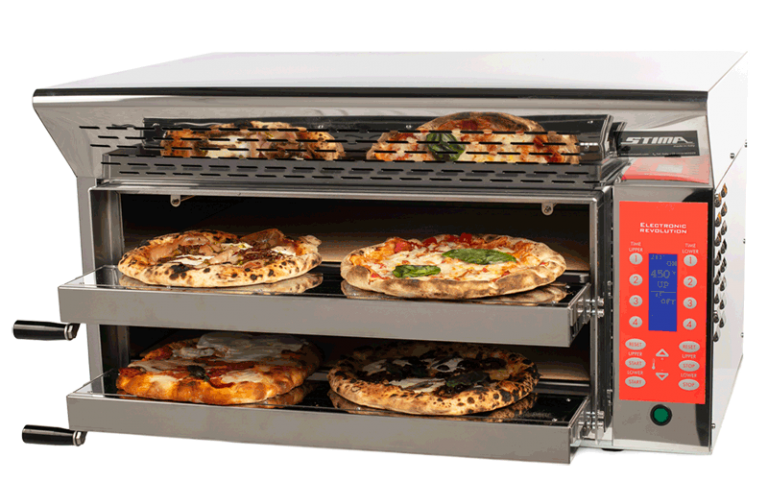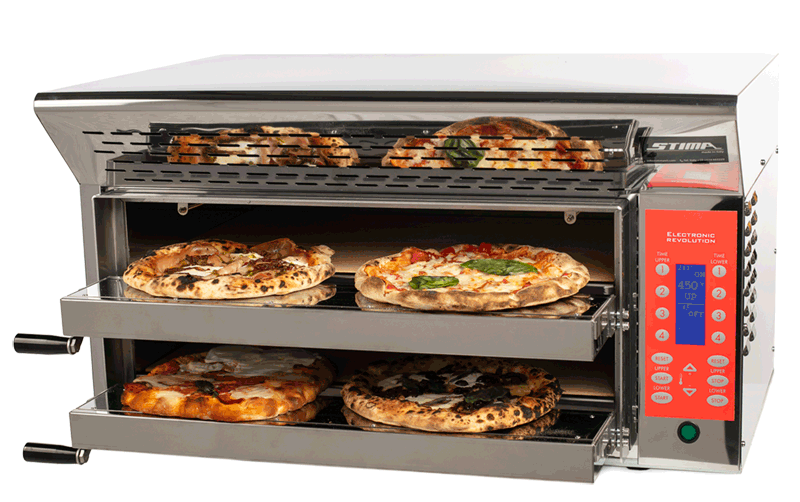 Pizza Oven VP3 Revolution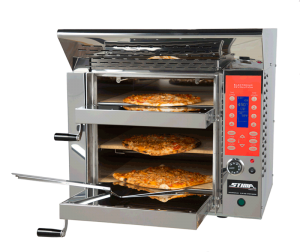 Pizza Oven VP3 Revolution XL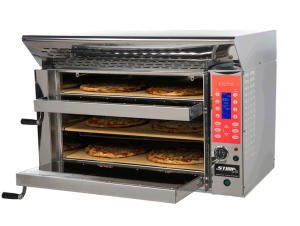 Handcrafted Pizza Bases represents today the new way to run a modern pizzeria.
On Quelli della Pizza website you can find a variety of the best pizza bases handcrafted in Italy. 
A pizza base is a dough ball that has already been kneaded and comes as a white "disc" ready for you to add your toppings.
It is the easiest, most cost-effective way to offer pizza on your menu without having to rely on a pizza chef and having to face the resultant increased running costs.
Advantages of the Stima system:
NOT NEED OF QUALIFIED STAFF REQUIRED
NOT NEED TO PREPARE DOUGHS ETC…
NO SPECIFIC AUTHORIZATIONS REQUIRED