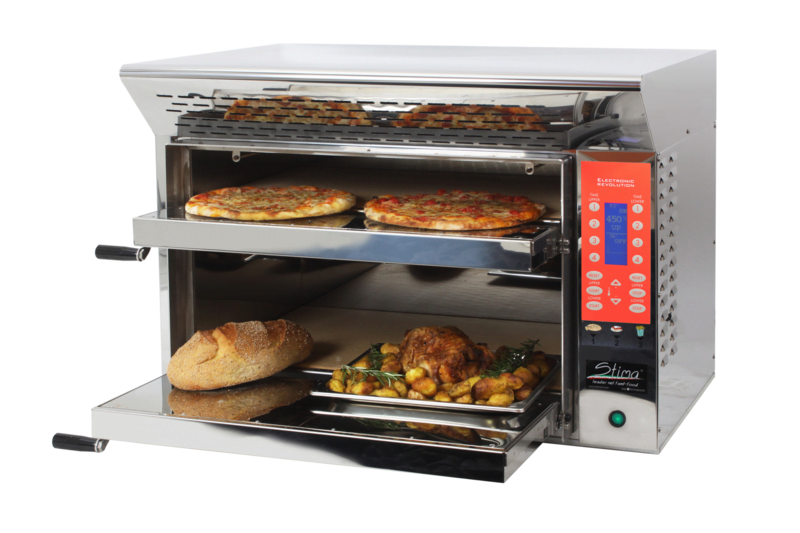 Self-cleaning oven for pizza and gastronomy. Equipped with extractor hood.
Pizza, bread and gourmet foods with a single machine

Professional electric pizza oven! Transform your place into a pizzeria with only 34,6 inches. Quality Guarantee Technology.
The solution for those who do not have or cannot install the flue.
4 pizzas in 1 Minute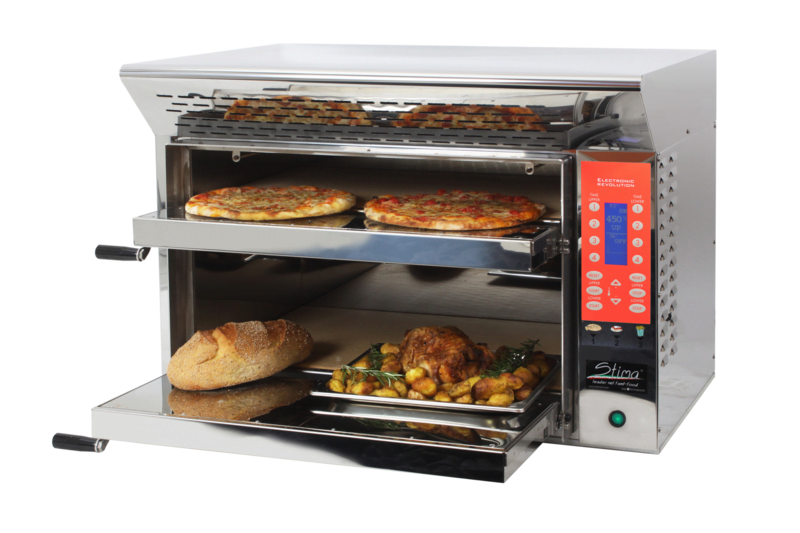 It costs you less than a pizza a day…
Our electric ovens are flexible for any type of dish that can be cooked in an oven, such as typical gastronomy dishes (lasagna, cannelloni, etc. ..).
We are pleased to present the new version of our ovens: Revolution model
Revolution is a new cooking system that allows you to quickly cook any type of food.
Ideal for pizza, sandwiches, toast, bread, but not only, thanks to the homogeneous and performing cooking the new REVOLUTION version cooks in a shorter time and with high quality also meat, fish, vegetables, lasagne, crespelle, etc
Revolution has a programmable temperature up to 520 degrees for a schock cooking, decisive for an exceptional quality of the inserted product.
IT PERFECTLY SIMULATES THE COOKING OF A FIRE-WOOD OVEN

Thanks to an increased insulation compared to the previous version, energy savings reaches levels never seen before: 800w/h stand by for 520 degrees.
Low consumption and high performance make this version ideal for those who want maximum performance with minimal energy consumption.
Remember that providing machinery with low energy consumption is increasingly fundamental: reducing the cost of electricity becomes essential in the management of commercial activity.
It is worth remembering that the consumption of electricity, or rather, upstream, its production, naturally involves the use of fossil fuels and other pollutants which, given the toxicity of emissions, have a considerable environmental impact. It follows that, after the debate on renewable energy sources, there are many environmental and clinical effects resulting from the consumption of electricity.
REVOLUTION respects the environment and your wallet.
The new oven "VP Chef XL" allows simultaneous cooking of pizzas and delicious gourmet foods in a few minutes.
All with one machine and in only 34.65″ of space. Ideal for restaurants, delis, bars, pizzerias, kiosks equipped etc.
The oven "VP Chef XL" comes with a revolutionary new feature: the self-cleaning! In fact now you can clean your oven by pressing just one button! The Stima engineers are  managed to make an important innovation that, exploiting the phenomenon of pyrolysis, allows the cleaning of the oven in completely automatic way.

The oven "VP Chef XL" consists of 2 cooking chambers of different sizes.
The upper chamber measuring 26 inches wide, 16.55 inches depth and 3.55 inches in height; the lower chamber measuring 26 inches in width, 16.55 inches depth and well 9.06 inches in height.
The upper chamber is ideal for cooking all pizzas, prepared with fresh pasta or prepared with precooked and frozen pizza bases. You can cook up to 2 pizzas at the same time and in just 2 minutes.
The lower chamber instead has been studied and designed to prepare and cook quickly  various gourmet foods. In fact, measuring 9.06 inches in height, allows the cooking of foods such as whole chicken, bread, roasted, sponge cake, donuts, capon and other delicious dishes.
Thanks to a revolutionary cooking, everything comes out cooked crispy like in a real wood oven without removing moisture to the product.
But the news of the "VP Chef XL" does not end there! In fact, thanks to a support located in the very middle of the lower chamber, we can insert a new firestone and transform the oven from 2 baking chambers to 3 baking chambers. This option will allow you to bake up to 6 pizzas every 2 minutes!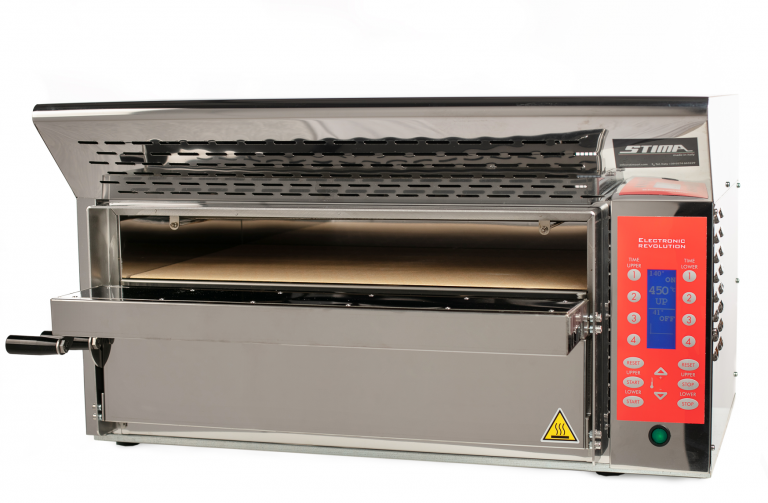 Why choose the VP Chef XL for pizza and gastronomy
All appreciation srl pasta machines and pizza ovens are entirely made in Italy
Our technical office pays particular attention to the subject of plastics, in particular all of our machines are made of 95% stainless steel, a notoriously highly recyclable material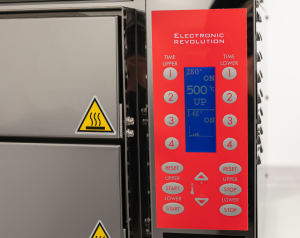 High efficiency pizza oven and gastronomy with low power consumption
The oven "VP Chef XL", thanks to its power and its ability to maintain the high heat inside the baking chambers, ensures a final product of high quality and goodness. It also offers outstanding performance with very low power consumption.
The pizza oven and gastronomy VP Chef XL, and the whole range of pizza ovens VP2 Evolution, are also equipped with an extractor hood with carbon filter that can hold the smoke and any other unpleasant odors.
Electric oven is equipped with 2 baking chambers with stainless steel walls and floor in refractory stone.
Through the use of resistances in Incoloy and emission of infrared rays, the pizza oven and gastronomy is able to bake pizzas and gourmet foods very quickly and evenly.
With its compact size and low power consumption, the oven "VP Chef XL" is adegue perfectly to the needs of a modern business.
Oven technical features VP Chef XL:
Dim. upper chamber:

66 cm x 42 cm x 9 cm / 25,98″ x 16,54″ x 3,54″

Dim. lower chamber:

66 cm x 42 cm x 23 cm / 25,98″ x 16,54″ x 9,06″

Width:

88 cm / 34,65″

Depth:

50 + 10 cm / 19″ + 3,94″

Hight:

64 cm / 25,22″

Weight:

75kg / 29,53 lb

Voltage:

380 V+N+T – 50/60 Hz

Temperature: 

max 520°/ 968f

Stand by energy consumption:

kw/ora 2

Max consumtion:

Kw 4,8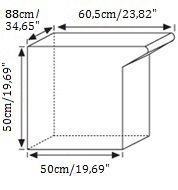 A revolutionary pizza oven!
Thanks to our revolutionary cooking system controlled by a microprocessor of latest generation, thanks to the insulation of the baking chambers and through the use of refractory stone designed specifically for our pizza ovens, you can ensure exceptional cooking results with very low power consumption. Specifically, you can get a cooking product identical to that of the wood-burning oven. The Stima oven "VP Chef XL" reach a maximum temperature of 520 degrees actual, and it is for this reason that great attention has been paid to the choice of stainless steel. In fact the high temperature of the oven can, with time, damage the texture of a normal steel used by the vast majority of ovens on the market. Instead, our steel and the structure of our rooms of firings are designed to allow a great reliability in the time, ensuring the same insulation of temperature from the first day of use.
It costs you less than a pizza a day…
Click on the image to Zoom
Our electric ovens are flexible for any type of dish to be cooked in the oven, such as typical dishes of gastronomy